Do you want to return to work, change careers or start a business? At TechPixies, you the modern technological skills you need to feel confident about your next move. Our face-to-face and online courses in Social Media, Digital Marketing, SEO, WordPress and Paid Advertising (coming in November 2018) are designed to give you a solid foundation for the modern era. Not only will you learn new tech skills, you'll also benefit from a holistic approach to learning which is why we've integrated our Life Coaching Toolkit into all of our online courses. Join our tribe and #BringBackTheSparkle! To find out more: REGISTER INTEREST or CONTACT US for more information.
A few lovely TechPixies at the Online Platform Launch Party in Oxford in June 2018
In 2018, we launched our online learning platform and 4 new courses!
2018 has been a very exciting year for us at TechPixies! After raising over £90k of female-led investment, we launched our new self-paced online learning platform which enables women anywhere in the world to gain the modern technical skills they need in order to return to work, change career or start a business. In addition to our popular Social Media Essentials course, we announced the launch of new online courses covering Digital Marketing, SEO, WordPress and Paid Advertising (coming in November 2018).
While our primary focus in 2018 is on our online courses, we still very much value face-to-face interaction and will be running some our courses in 3 cities (London, Oxford, and Bristol) during the 2018/19 academic year. All our face-to-face learning is taught in term time from 10am to 2pm, allowing women who have children in school to learn and still be able to make the school run!
In May, TechPixies founder Joy Foster, won the Institute of Directors: Startup Director of the Year for London and the South and is a finalist in the national award which will be announced in October. TechPixies is also a finalist in the 2018 Women in Business Startup of the Year Awards which will also be announced in October.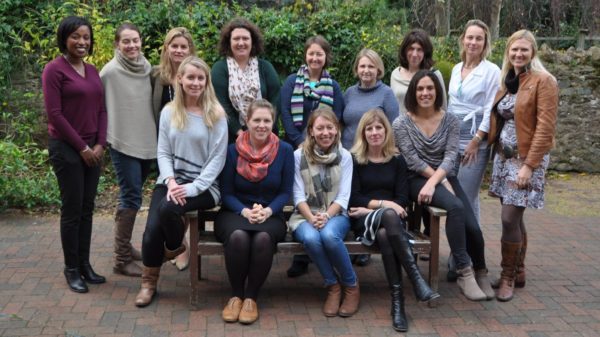 Our very first cohort of women in 2015
2015-2017
In 2015, TechPixies ran a 5 month pilot project with 12 women based in Oxford. The pilot was funded by the Government Equalities office via Better Broadband for Oxfordshire and the Oxfordshire County Council. Most of the women from the initial pilot are now in paid employment including Verity Arndt, Head of Global Communications for Hitachi High-Tech Analytical Science, Meirion Hood who works as a marketing and communications manager at Classlist and Anna Meachin who works in marketing and communications for The Career Innovation Company. One of our early graduates, Miranda Blaas-Cousins even launched her own business Harta Living (@Hartaliving) following the loss of her mother. Another graduate, Caroline Flakelar has recently launched a succulents company called Breathe Wellbeing.
Following the success of the pilot, in December 2016, TechPixies started trading as a limited company offering 6 week and 12 week training programmes. In order to help fund the development of the new programmes, TechPixies received a 'Grow it' Award from UnLtd, the leading provider of support to social entrepreneurs in and around the UK. With the additional funding, a successful Crowdfunder Campaign and a surprise visit from the Prime Minister, TechPixies was able to launch 10 additional cohorts, helping plant the seeds for nearly 100 women return to work, change careers or start a business.
There have been some lovely success stories to come out of the 2016/17 cohorts with many women not only going back to work but learning how to market their own businesses. We've had some really fun businesses come through TechPixies such as Lisa Frosts' Etsy shop Frosty in the Cotswolds (@frostyinthecotswolds), Barbara Burton's Social Enterprise Behind Bras (@behindbras_), a Pilates Studio Core Benefit (@corebenefit) run by Julia Trinder and Clear Space for Me (@clearspaceforme), a decluttering business run by Trio Watson.
On the return to work side of things, several of our TechPixies found gainful employment including Mandy Miller and Rachel May who manage the social media accounts for Proviz – the world's leading hi-viz sportswear company, Sam Evans who manages the social media for The Curiosity Box – science subscription boxes for kids, Victoria Shore who is currently a Business Researcher at Fast Track (a Richard Branson company), and Louise Sloan who works alongside Miranda at Harta Living to mention a few.
In addition to the UnLtd 'Grow it' Award, TechPixies founder Joy Foster was 'Highly Commended' in 2016 at the Social Enterprise UK Awards in the 'Women's Champion' category. At the Women in Business Awards, she was a finalist in the 2017 Rising Star category. The 'crowning' achievement came in October 2017, when TechPixies was awarded 'Female Startup of the Year' by Enterprise Nation at their annual Festival of Female Entrepreneurs in Bristol.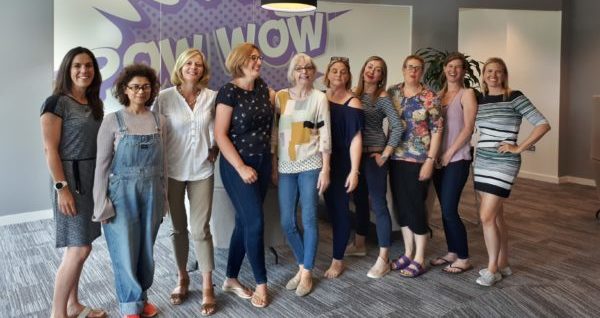 Our last 12 week programme which completed in the spring of 2018
You might also enjoy watching a video of our pilot project which follows a couple of our TechPixies as they work their way through the course. While our courses have changed in scope and duration, the core principles are still the same and the results we are seeing across the board are extremely encouraging!
Featured in this video is Verity Arndt and Emma Woo. Verity as mentioned above has successfully returned to work and Emma Woo is currently retraining as a counselor and has recently started practicing as a hypnotherapist.
Want to find out how TechPixies can help you? REGISTER INTEREST or CONTACT US. We'd love to chat.